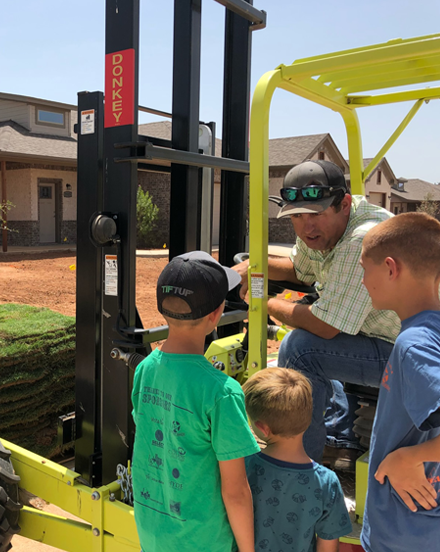 Prime Sod has deep roots in the sod industry, not only in Texas, but across the United States. Ike Thomas was one of the founding farmers of Thomas Bros. Grass which began in 1969 in Granbury, Texas. He, along with his father and brothers, built a nationally known sod company that started with a simple 10-acre farm.

Thomas Bros. Grass merged with several other sod companies to form Turfgrass America. Turfgrass America served the south with excellence in sod from sports fields (Kyle Field at Texas A&M University, Kansas City Chiefs Arrowhead Stadium, the Tennessee Titans Stadium, Amon Carter Stadium at TCU, the Cotton Bowl and The Texas Rangers Arlington Stadium) to their neighbor's front yard. There was no job too big or too small for these sod farmers.

During Ike's tenure, he served as the president of American Sod Producers Association (ASPA) now known as Turfgrass Producers International (TPI) and was a member of the National Turfgrass Evaluation Program (NTEP) Board.
In 2004, Ike Thomas retired from the sod industry. He and his sons Ryan and Justin pursued other ventures. However, in 2011, Ike, Ryan, and Justin had the opportunity to buy back one of the original Thomas Bros. Grass farms.

The Thomas Brothers have moved forward as a new generation to bring quality, drought-resistant grass to the area. Prime Sod is the new name for this well-known family business. While the name is new, the same expectations of excellence in sod and customer service have not changed since 1969.

Prime Sod is headquartered out of Granbury, Texas, on that same 10-acre farm where it all started almost 50 years ago. In addition, Prime Sod has a farm in Kopperl, Texas, just north of Lake Whitney. Prime Sod is the premier grower of Tiftuf hybrid Bermuda, the newest and most drought resistant hybrid Bermuda grass available.